Hi, it is ESN MENDELU Brno HERE!
We are the smallest section in Brno, but in case you coming here, you will definitely hear about us.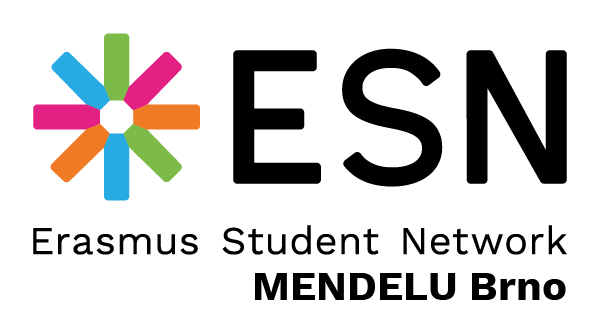 About Us
We are a non-profit, a student organisation from Mendel's University in Brno. Our main task is to take care of incoming Erasmus students in Brno. 
We offer a buddy system (for one incoming we find one local student, who can show him in person how to live in Brno and help with everyday issues). We organise many events like parties, cultural events, sports activities, language learning, trips around the Czech Republic and abroad and even more opportunities how you can enjoy your Erasmus stay in Brno. 

We help to create one big Erasmus family and memories for the lifetime.
For more information about us continue reading or visit our web page & social media!: 
Incoming Erasmus students
Incoming Erasmus students can look forward to many activities throughout the whole semester prepared by ESN MENDELU. We organise more than 40 events per year which can be divided into six main categories: trips, sport, party, social, cultural, and since we are in the Czech Republic the last category is beer-related because everybody knows that the Czech Republic has the best beer in the world. So you can look forward to special events which will allow you to get to know our fantastic beer culture. For example, beer pong, brewery excursion, pub quizzes, beer marathon, and more.
Also, in the cooperation with the other Brno's sections (ESN MUNI and ESN VUT), we organize events for Erasmus students from all of Brno as a Tram Party, Boat Party, Erasmus night, or the Erasmus Students Ball – these are the biggest events and you should make sure you will not miss that.  
Right at the beginning before the semester starts, we organise together with the International Relations Office Welcome Week. New exchange students can meet their classmates, get to know the university campus, the city of Brno, and experience their first trips and parties.
If you want to know more about the events and see which events we plan for this semester, you can get more information here.
Buddy program
Another of our essential activities is the Buddy program. The aim is to offer a hand to incoming students in situations when they need it the most, which means after their arrival – when they face the first obstacles in a foreign country. Czech student as a volunteer "Buddy" helps a partner foreign student with accommodation, necessary documents, and papers and tries to make him/her feel good in our city.
From this semester on, we are arranging Buddy and Pick up in the Fiesta system. All necessary information about Fiesta and how to sign in is sent to new incoming international students via e.mail by the International Relations office and from our HR.
For the others – wanna join us?
(You should because this is an experience for the lifetime.) 
You have two fantastic options: 
1) Become a buddy
Buddy is a best friend of the incoming Erasmus student, and he helps him with the life in Czech republic (How to get to dorms, where to go to the doctor, etc) and Erasmus student will show him the international experience in Erasmus family in Brno. For buddies, we have a great matching system where you can choose how many Erasmus students you want to take care about, and also you can select their origin country. (So if you struggle with some language at school, what can be better than take a native speaker?) 
If you want to become buddy, It is very easy – just log in Fiesta here,  and to have all information, join our Buddy group on Facebook 
If you have any questions, just write an e-mail to hrmanager@esnmendelu.cz 
2) Buddy is not enough for you? We have a great option 2 – join our ESN MENDELU Team! 
Would you like to get more involved in the organisational part of ESN MENDELU and help us prepare great events for the incoming international students? If your answer was YES! and you want to become an ESN MENDELU member, don't hesitate to contact our HR at hrmanager@esnmendelu.cz.  We don´t expect any CV´s and we don´t do any entry interviews, but if you could maybe include a short motivation why would you like to be our missing "peas", how could you help or how do you imagine our cooperation it would be very helpful for us. Hope to hear from many new to-be members.